Microsoft Project Online and Project Server have been the stalwarts of Microsoft PPM – but Project for the Web and the Power Platform are the future. Here's why...
Below summarises the key points of our recent webinar, which you can still watch here.
Project Online is showing its age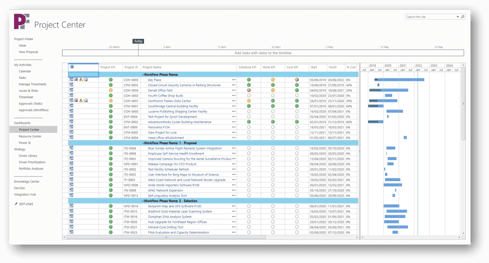 Project Online certainly has been around for a long time: it was first released in 2013 and its on-premise version Project Server goes back to the early 2000s.
With its Microsoft Project desktop client and SharePoint infrastructure, it has huge functionality. However, it does not natively integrate with Microsoft's work management platforms and some of its user experience is outdated. Many complex features are rarely used, and it doesn't compete well with modern easy-to-use cloud tools. While still attractive to high-maturity project management environments, it is certainly not the tool to capture the mass market which is increasingly about easy adoption and collaboration.
This competitive pressure led Microsoft to launch a modern Project Online alternative: Project for the Web within the Power Platform.
Hello Project for the Web!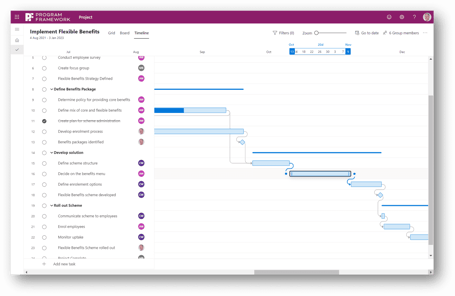 A modern scheduling and PMO work management software, that no longer connects to Microsoft Project desktop.
With its sleek user interface and simplified scheduling, it offers a great user experience. No need to check out or publish a plan, instead we have simultaneous co-authoring, agile task board and native Teams integration.
The Power Platform offers unlimited possibilities
Placing Project for the Web in the Power Platform is what's driving the revolution of modern Microsoft PPM: It can now be extended through low-code Power Apps that make customisation, automation and integration possible like never before. Unlike Project Online, which is fixed within the parameters of its features (and Microsoft won't enhance these any further), the Power Platform sets no limits to what can be done.
A significant factor in delivering all this extensibility is Dataverse, the database of the Power Platform. In Project Online we had cumbersome SharePoint sites templates and lists to play with when configuring registers like Risks and Issues - now we have a proper database that is just as easy to work with as a SharePoint list but offers so much more. Hurrah!
Built-in goodness…
On top of that, the Power Platform delivers a whole bunch of built-in features that we simply inherit for our PPM app, including:
Integrated search

Contextual help

Auditing (i.e. field level change history)

Document automation

Multi-language support

Mobile compatibility

Power Portal access

Access to a whole range of AI features
…but some scheduling features lost
Users familiar with sophisticated scheduling features in Microsoft Project will have to give up quite a few of them when moving to Project for the Web - sacrificed for the sake of simplicity (but when did anyone last use the dreaded resource levelling feature anyway?).
The webinar goes into detail as of what features have been lost - but also points to a roadmap of enhancements that Microsoft is planning, to bring some of them back over time.
Lets not forget Power BI
Project Online of course benefits from Power BI reporting, but now that we have our data in Dataverse, it is even easier to customise, extend and integrate data from other sources. Even more valuable reporting is the outcome.
Manage environments and development with ease
The Power Platform comes with full Application Lifecycle Management features (ALM) built in, allowing you to create Sandbox and Production environments easily and manage enhancements with proper change control. Project Online never had this, so another big plus.
And then there's license savings
You can make huge savings on license cost with Project for the Web, not least because there is significant functionality for users that are not licensed for Project at all: they can view roadmaps and projects, view reports with Project data, and even update task progress.
Your project managers may just need a Project Plan 1 rather than a Plan 3, roughly a third of the cost (but Plan 3 as well as Plan 5 still feature, as explained in the the webinar).
Watch the webinar on-demand
As a Project Online user, what will you gain by changing to the new platform? And what would you stand to lose? The webinar expands on the above point, for you to watch at your leisure - register here.
This webinar will cover everything you need to know:
Contrasting key features and user experience
Configuration
Security
Reporting
Extendibility and integration
Licensing
We will also consider how you can make the move across or even use hybrid deployments for staged transitions.
Most importantly, you'll learn why the Power Platform is the Microsoft Project Online alternative that takes you further – arguably the most strategic move you can make for your project portfolio management solution. Certainly, if your organisation's IT strategy is 'Microsoft Cloud first' then this is the place to be, making the most of your strategic cloud platform and avoiding 3rd party silo tools.