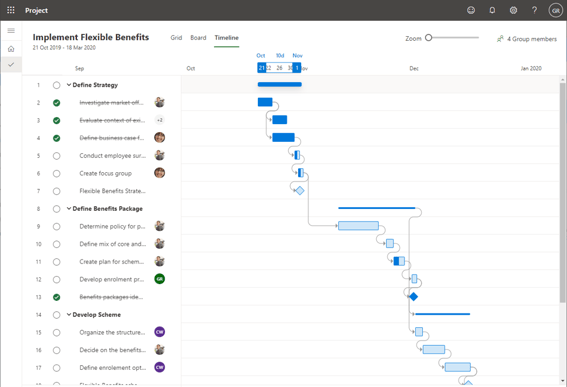 Project for the web was built by Microsoft to make life easier for project planners and teams. Our customers love its attractive user interface and ease of use, the ability to share projects with team members, adjust online timelines and many other features.
Did you know though that Project for the Web is delivered through the Microsoft Power Platform? Many of its benefits are actually thanks to this platform, not least the visibility of data provided by Power BI.
What is the Microsoft Power Platform? 
The Power Platform combines the amazing capabilities of Power Apps (to rapidly build custom, low-code applications), Power BI (business intelligence) and Power Automate (process automation). At the heart of it is its database, called Dataverse.
Dataverse is deployed in your organisation's Microsoft cloud and comes prebuilt with a standard set of data tables. These tables (for example Accounts, Contacts or indeed Projects) are extensible – so you can add additional data fields or entirely new entities. These are defined with relationships to each other and all sorts of business rules to fit your business needs.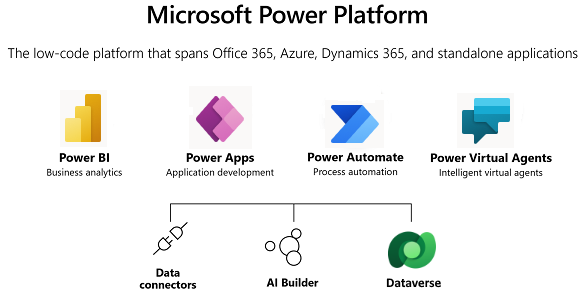 What does this mean for Project for the web? 
Project for the web stores its data in Dataverse, with entities such as projects, tasks, and assignments.
As a result, it is highly extensible, allowing you to add custom data content and create Power Apps to maintain and work with the data (e.g. a custom risk log linked to your projects, with a mobile app to maintain). It also has a very responsive user experience that is typical for tools in the Power Platform.
But there is a very strategic perspective that is hugely important: consider that the Power Platform is one of Microsoft's key investment areas – and if your organisation has chosen Microsoft cloud as its operating platform, then the Power Platform has the potential to transform any area of your business.
If this is not happening already, it's only a question of time.
Deploying Project for the web and other Power Platform features for your PMO and project teams allows you to unify business areas in a drive for digital transformation that links everyone up. In other word, if this is the platform for the whole organisation, then it's a good idea for your PMO and project tools to be part of this.
4 strategic benefits of the Power Platform
Collaboration
The Power Platform makes it easy for everyone to work together. It delivers modern PMO work management tools - not just Project, but also Planner, To Do and Teams. You can even extend your abilities with web-facing Portals to share information and collaborate with suppliers and customers. Breaking down silos and joining everyone up is the key to project success.
Flexibility and fast deployment
Power Platform capabilities can be rapidly set up to deliver solutions to your needs. Low-code solutions created with Power Apps in combination with the highly extensible Dataverse unlock new opportunities to transform your processes, with features built in days, not months.
Automation
Power Automate can deliver great productivity gains by automating time-consuming repetitive processes such as approvals, alerts, data compilation, and report creation.
Automation increases consistency and minimises human error by ensuring tasks are performed the same way every time. This makes Power Automate a powerful enabler for establishing governance rules and increasing compliance.
Integration
There are so many integration scenarios that are typical for project environments, such as bringing in actual costs from your finance system, automating task management across tools or integration with SharePoint document management.
Dataverse and Power Automate make use of out-of-the-box connectors that can bring together data held in disparate data silos and connect systems and people easily.
And then there's Power BI...
While Power BI is itself a service in the Power Platform, it's worth emphasising its game-changing qualities. Power BI is Microsoft's premier business intelligence solution. It is a collection of software services, apps, and connectors that work together to turn your unrelated sources of data into unified, visually immersive insights. Your data may be an Excel spreadsheet or a collection of cloud-based apps or data warehouses. Power BI lets you easily connect to your data sources. It gives you a single view of the truth to discover what's important and the power to share your insights.
How does Power BI support Project for the web?
In a word: visibility. Having access to quality project data means nothing if you can't extract value from it. Giving organisations the power to visualise and interrogate data supplied by Project for the web and other sources drives insights to support better decisions - and ultimately increases the chances of project success.
Our customers love Power BI and we see the impact it has every day. It improves stakeholder engagement, which in turn leads to the emergence of a data-driven culture. It transforms decision-making and empowers organisations to drive behavioural change towards increased maturity.
Choose the platform you already invest in
There's a huge choice of attractive web-based project tools available today. But beware: you risk creating yet another silo with implications for user experience, data access, compliance, and security.
Project for the Web in the Power Platform with Power BI has the power to address your PMO's day-to-day challenges, combining flexibility with speed to deploy, security, and compliance.